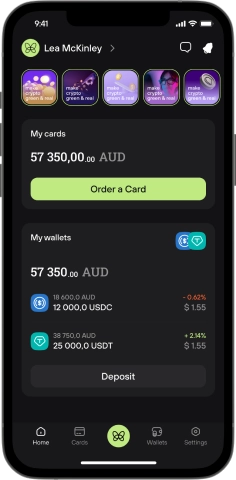 The Future of Personal Finance
Pay with Digital Currencies anywhere in the World
Debit Card & Digital Wallet in one App
Coming exclusively to Australia in Q1 2024
Our partners:


Easy to Use

Anyone can use it! Even if you are new to digital currency, you will find it simple to discover the world of easy payments with Grineo. Spend your digital currency in just a few clicks with Grineo.

High Security

We do not store passwords to your account. You can get access to the wallet with the passkey protocol using biometrics.

Regulated Company

Grineo is a company regulated by AUSTRAC. Address: Level 14, 5 Martin Place, Sydney, 2000, NSW, Australia.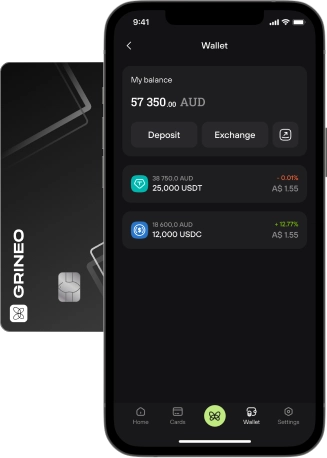 all major Stablecoins
Access to all major currencies at your fingertips
one app
everything you need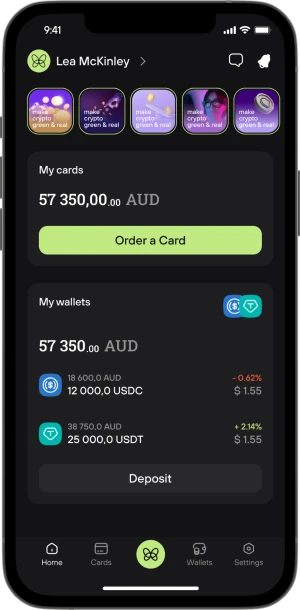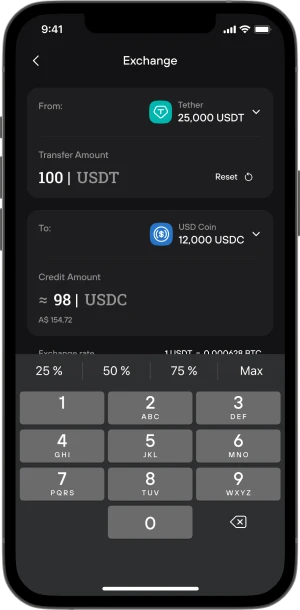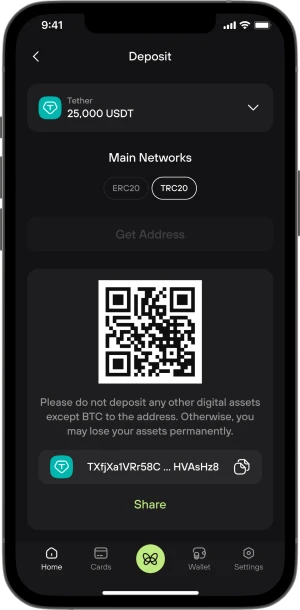 Choose Your card in the App
Lite

Free

Life

$9.99 Free

For The First 1000 Clients

PRO

$29.99

/ monthly fee
FREE from $3000 card spend
Pay easily online and in stores

Connect to Google Pay, Apple Pay, Samsung Pay

Withdraw money from ATM

Connect your card to online services
Convert Digital Currency To
Fiat Money Instantly
Funds are converted into fiat money at the time of payment at the current rate and are debited from your digital wallet.
Everywhere

Use digital currencies everywhere a debit card is accepted

Fast & Easy

Convert digital currencies into fiat money easily in seconds

Worldwide

Use digital currencies for international payments and transfers.
Grineo Is The Ideal Solution
For Every User
Everyday Users

Spend digital currencies like cash on any product or service in the world. If it accepts bank cards, it accepts Grineo – spending digital assets just got a lot easier.

Payroll Users

Do you receive a salary or payment for your services in digital currency? Send USDT, USDC or any other supported digital currency to your Grineo wallet and pay with Grineo card instantly.

Traders/Miners

Do you mine or trade digital currencies? Grineo allows you to use your earnings from trading and mining to pay for services just like you would with regular fiat money.

Investors & Active Users

Do you have digital currency assets? Spend them easily with a Grineo payment card. No peer-to-peer or complicated transactions. An easy, instantaneous payment.

Foreign Residents

Do you receive money overseas? Transfer your funds as digital currencies and spend in any country in the world.

Travellers

There is no need to convert money to local currency on a trip. Just send it to your digital wallet and spend it in any country that supports debit card payments.
how to use
3 Easy Steps And The Grineo Card Is In Your Pocket
Install The App

Download the App from AppStore or Google Play

Top Up With Digital Currency

Sign up and deposit funds with your preferred digital currency

Get The Card & Pay

Order a Grineo card, link to your digital wallet and pay
stable and secure
High Security

We use the latest high-security standards to protect your assets with the passkey protocol:

Your Card Data Is Fully Secured

Our top priority is your safety, so we follow the latest worldwide privacy and security standards.

Data security (PCI DSS +)
Transaction security (3-D Secure / SSL)

Regulated company

Grineo is a company regulated by AUSTRAC with 2 types of certificates:

Digital currency exchange SP
Remittance services

Address: Level 14, 5 Martin Place, Sydney, 2000, NSW, Australia
FAQ
What is a Grineo card?

Grineo is a virtual and/or physical debit card that is linked to a digital wallet within the Grineo app, allowing you to seamlessly pay in fiat money using your digital currencies.

How to register with Grineo?

Registration with Grineo is simple:

You need to be over the age of 18 and a resident of Australia
Download the Grineo App from either the Google Play Store or Apple App Store
Once installed, open the App and follow the simple steps to create an account
Complete a simple KYC (Know Your Customer) verification by confirming your identity

How to order the card?

Order your Grineo card directly through the Grineo App. Once registered and logged in, simply click the 'Order a Card' button and follow the instructions.

Can I order the card outside Australia?

Currently, Grineo cards are only available in Australia and can only be delivered to an address within Australia. However, we are actively working on expanding our services to other regions. Please keep an eye on our website, app or our social channels for updates about our global availability.

Do I need to be a resident of Australia to order a card?

Yes, to order a Grineo card, you need to be a resident of Australia with a valid Australian address. We look forward to expanding our services globally in the future.

How do I use the Grineo card?

Using a Grineo card is just like using a standard debit card. After you've topped up your Grineo wallet with digital currency and connected it with a Grineo card, you can use it for purchases at any location that accepts debit card. The digital currency is converted to fiat money in real-time when you make a purchase.

Can I deposit fiat money onto my Grineo card?

Unfortunately, you can't top up your balance with fiat money at present time. But we will be adding this functionality in the future. Currently, you can top up your balance with USDC and USDT.

How can I withdraw funds from the Grineo card?

You can use your Grineo card to withdraw fiat money at any ATM that supports debit cards. Alternatively, you can also withdraw your digital currencies to any valid digital wallet address. Please note that withdrawal methods may be subject to fees and limits as outlined in our terms of service.